ACTIVATE
1. Go to an artwork (good starting point is 'Ghost Ship', Oosterdokskade 135)*
2. Scan the QR code on the artwork sign, with your mobile phone.
3. Fill in our email address and barcode found on your ticket (10 digits) on the page.
4. The Route Map is now available for 48 hours one 1 device.
5. Click on the icons on the map for mroe information.
*You can also activate the map via this link. Please note: the map is valid for 48 hours on one device at a time.
BARCODE
The barcode is on your ticket: below the QR code, 10 digits. There is another code in the mail - the order number - do not use this one.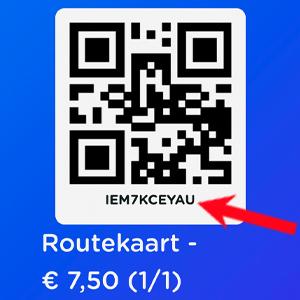 SCANNING QR CODE
Open the camera of your mobile phone. Point your camera at the QR code. A pop-up or a link should appear. Some mobile phones need a separate app to scan QR codes. You can also go directly to this link: www.amsterdamlightfestival.com/en/more-information
STARTING POINT
You can begin at any artwork. For the continuity of the Audio Guide we advise to begin at 'Ghost Ship' (Oosterdokskade 135). The artworks can be found along this route: Oosterdok - Oudeschans - Amstel - Nieuwe Keizersgracht - Plantage Muidergracht - Entrepotdok - Schippersgracht - Oosterdok.
LOG IN NOT WORKING
1. You have entered the wrong info. To log in, you will need the email address with which the tickets were ordered and the barcode. You will find these in your confirmation mail and the ticket.
2. You have already activated it 48 hrs before. The map is only available for 48 hours. Your only option now is to purchase another ticket. Click here to go to our ticket shop.
3. Someone else is logged in. The Route Map/Audio Guide can only be active at one device at a time.
4. You have already activated the map. Close all the tabs in your browser and close the browser itself, too. Try all the steps again.
MULTIPLE TICKETS
Every person that wants to activate the map should scan the QR code with their own device. Then, everyone fills in the same emailaddress (on which the order was placed) and a unique code. The codes can be found in the email.
USING THE MAP
If you click on one of the icons, the information will appear below the map. Scroll down to read and click on 'Read More' for more information about the artwork and the artist. When you get to a new artwork, just click the new icon on the map. You do not have to refresh the page.
MAP FREEZES
Close all tabs in your browser and close the browser itself too. Follow all steps again.