HOW DOES IT WORK?
You can get your tickets via our website. Pick your preffered date and time slot to experience the Light Walk. Within your time slot of choice you can check in at our incheck location and the experience will begin via your own smartphone!
You can experience the Light Walk from December 10 - January 3
Pick a time slot between 5:30 and 9:30 p.m.
Tickets cost €12,50 ex. service costs (free for kids under 12 y/o)
Don't forget to bring your own smartphone and earphones!

EXPLORE WITH THE LIGHT WALK
During the Light Walk you're going to explore the eastern part of the city centre. Through WhatsApp theatrical producer Lucas De Man will send you videos, photos and voice messages, taking you on a journey of light, art, nature and the city. You'll walk past inspiring light artworks, listening to intriguing stories, all within the theme of 'When Nature Calls'.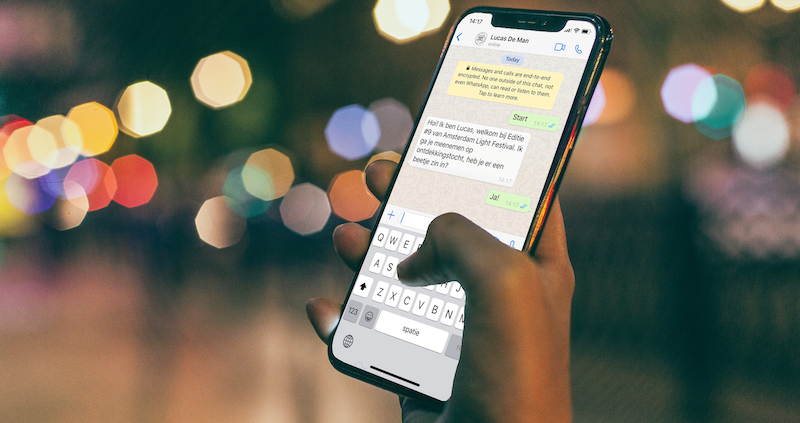 The Light Walk is interactive, meaning that as a visitor you can influence the story. Would you like to dive more into the topic of light art? Send Lucas a message and he will tell you about the artists and the creative process. More interested in history? You will be told all about your surroundings and its history.
Curious to know what Lucas sounds like? (FYI: the Light Walk will be available in EN)
A SAFE EXPERIENCE
In the open air and at 1,5 meters distance, the Light Walk is corona proof and the perfect reason to get out of the house this winter. We're working with pre-booked time slots to prevent the overcrowding on the route. Moreover, visitors are advised to keep social distance at all times and we will monitor the crowds during the entire evening.TICKETS
TICKETS
Tickets for the Light Walk cost €12,50 (ex. service fee). Want to be the first to get your hands on a ticket? Subscribe to our newsletter! Do you have any questions? Visit our FAQ to find out more.