THEME: IMAGINE BEYOND
With this year's theme we take you on a journey to the world of imagination. The world around us can seen very different in a blink of an eye; we have all experienced this over the past few years. Right at that moment - when everything around us seems to be shifting and nothing seems to be of the ordinary anymore - we need the power of our imagination. With the different festival experiences we invite you to let go of reality for a bit. Join us on this journey and experience it for yourself!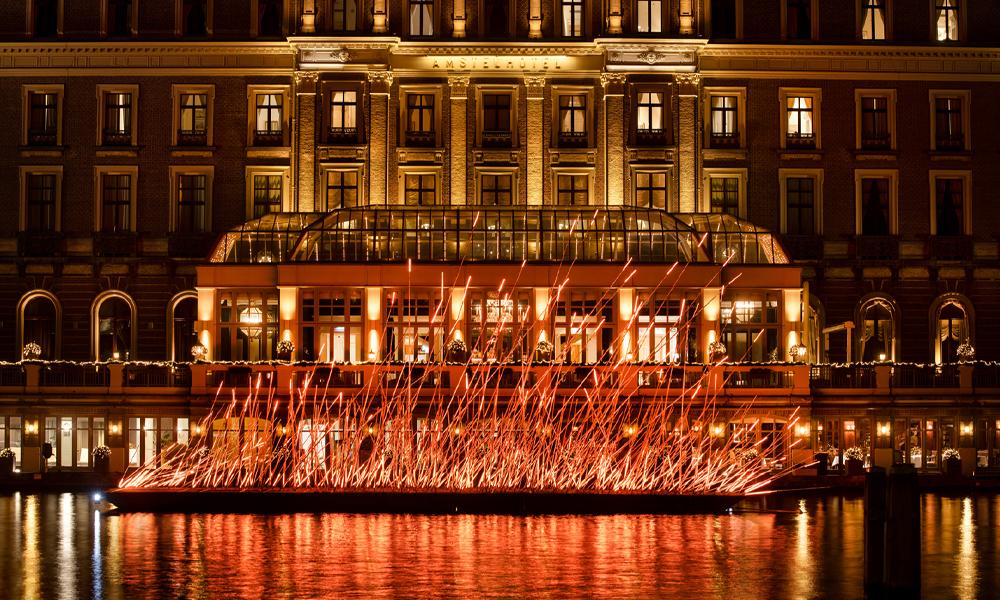 TICKETS
With one of our cruise or walk experiences you will get to know everything about the festival, the theme and the light artworks. Listen to the official audio guide on board of a cruise, or let the skipper tell you all the stories. Walk past the artworks with the digital walking map, or let a live guide tell you everything you want to know. Get your tickets now and ensure yourself of an unforgettable experience this winter!
TICKET SHOP (Edition 11 is over, it's not possible to buy tickets anymore)
PRACTICAL
The 20 light artworks are placed in and along the canals of Amsterdam Centre-East. You can get the route in our ticketshop. From 1 December until 22 January the lights are on daily from 5.00 p.m. Until 11.00 p.m. you can enjoy the special light sculptures by foot or via the water (on New Year's Eve until 8.00 p.m.). Want to know how to get there? Click the button below for more information. To receive the latest news in your mailbox, subscribe to our weekly festival newsletter.

PROJECTS
In collaboration with Stichting Gouden Dagen we will organize a special evening on January 16, where we put hundreds of elderly citizens in the spotlight. During the canal cruise, children of our education project will be the hosts and tell the guests everything about the 20 light artworks on the route.
Around 1200 primary school students form all over Amsterdam participate in this education project, which has been held since 2014. This year's project is a collaboration with the city of Amsterdam, whereby the children learn more about (light) art, bridges and quays in Amsterdam and they make a contribution to a light artwork, during a series of workshops. To conclude, they pay a visit to the festival together with their parent(s)/guardian(s).
Next to that, we are working hard on the topic of sustainability. For instance, we measure the energy consumption of all of our artworks and we pursue more sustainable solutions in all facets of the festival organization; we use led light in the artworks, we provide bicycles and electric boats to our technical crew and we minimize the use of printed promotion materials.
Click on one of the buttons below for more information.