(Light) art in public space
The artworks are accessible to everyone and are often closely linked to where they are located. Next to the works of our own collection, there is much more light art to be discovered in Amsterdam! On the map below we have collected all the locations and artwork descriptions (credits: City of Amsterdam). Do you have another artwork to add, or do you want to know more about permanent artworks? Send us an email at info@amsterdamlightfestival.com.
Current project: Nieuw-West
In the coming years, the area of Amsterdam Nieuw West will undergo a major metamorphosis, which the Municipality of Amsterdam is working on together with various real estate parties. The City of Amsterdam has involved the Amsterdam Light Festival in the redesign of the area to add permanent light art. In the coming years, several works of art will find their place in public space: in the outskirts, but also around squares and other places in urban areas.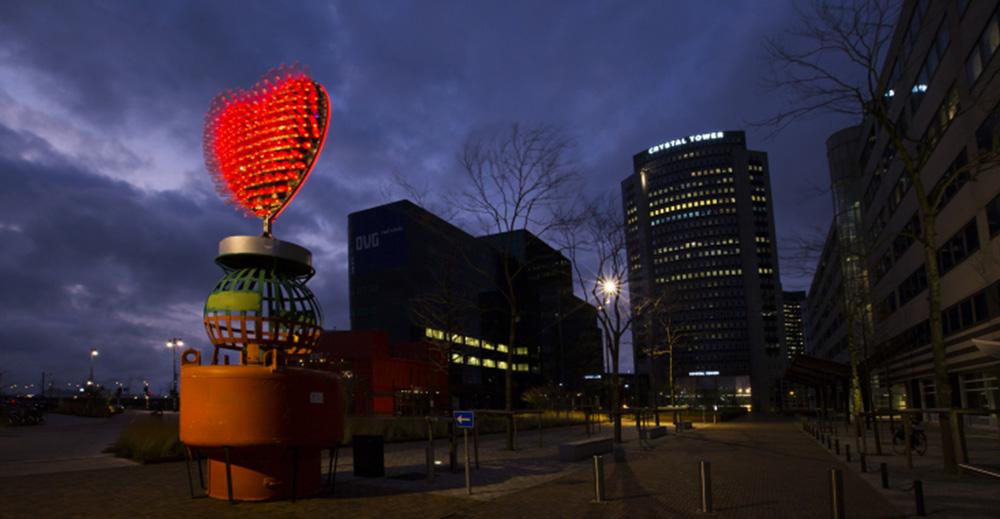 178 Bottles, 1 Message - Station Sloterdijk
The artwork 178 Bottles, 1 Message, made by Tijdmakers (Saskia Hoogendoorn and Lieuwe Martijn Wijnands), has been placed on the square in front of Amsterdam Sloterdijk. The work was shown during Edition #3 but has now been given a permanent place in Amsterdam West. The work consists of 178 bottles with LED lighting representing the number of different nationalities in the city. The residents of Amsterdam are the beating heart of the city and that image is now visible to everyone.

The Light Kite - Sloterplas
The Light Kite, made by Tijdmakers, brings you back to the past, when you had all the time in the world and you could fly a kite endlessly. The artwork was on display during Edition # 4 of the Amsterdam Light Festival, but now has a permanent place at the Sloterplas. The artwork is a universal symbol of friendship and freedom. Most Dutch people will immediately think of the famous song by folk singer André Hazes, the kite.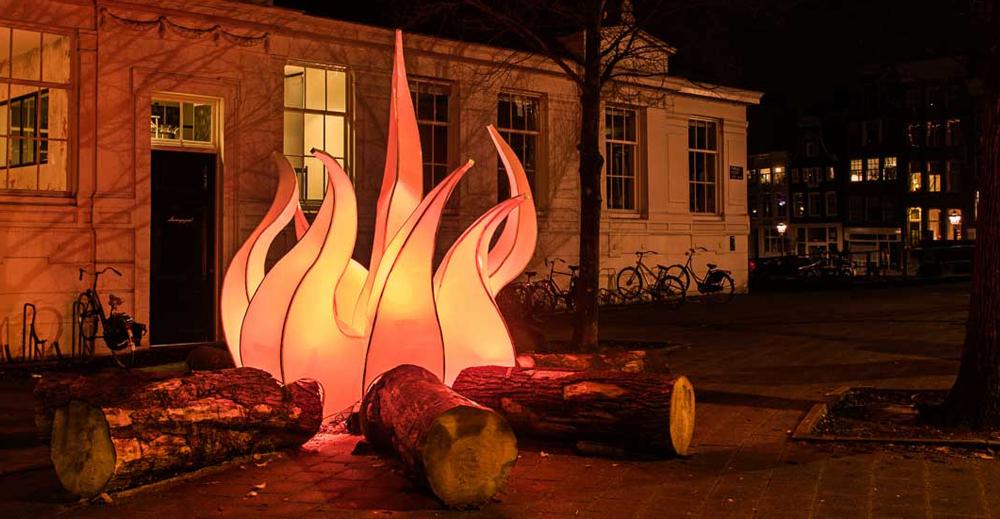 Campfire - Uilenstede University Campus
The campfire has traditionally been a place where people come together to tell stories. That image seems to be out of date. Now everyone has something to say all day long, chattering around the twitter fire. The artwork was shown during Edition # 3 and has now found a permanent place at the university campus at Uilenstede Amstelveen. The tree trunks, from which the fire seems to emerge, are benches and thus create a meeting place. The artwork was placed in commission by DUWO.