| | | |
| --- | --- | --- |
| Are you? | | What we offer |
| - Enthousiastic & hospitable | | - Be part of a leading light festival |
| - Interested in cultural events | | - Close contact with festival visitors |
| - Willing to work flexible hours | | - Work together with great colleagues |
| - Available min. 5 days | | - An inspiring briefing |
| - Familiar with Amsterdam | | - Experiencing the Light Walk together |
| | | - You'll be well taken care of! |
| | | |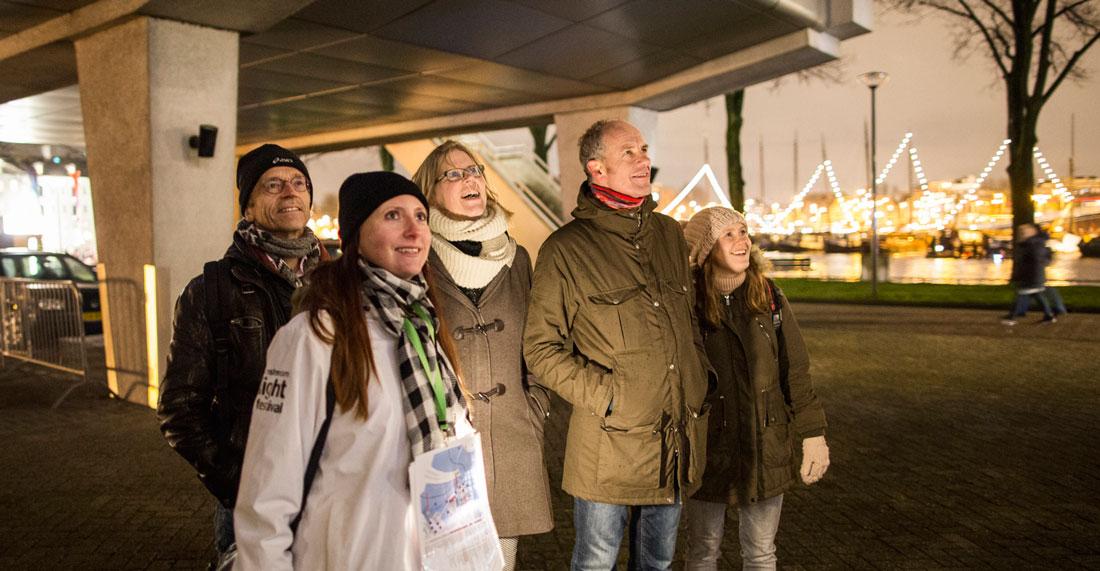 "It is a beautiful festival. Good for Amsterdam and a great experience. I planned to help out for four days; I ended up coming eight!" - Roel Steenbeek

Types of volunteering roles
The festival hours are from 4 pm to 10 pm, from 10.12.2020 'til 03.01.2021. It's the intention that everyone is available for at least 5 volunteering services. You can choose your preferred role from the list below:

- Public counselors:
Give visitors an explanation about an (interactive) work of art and point to the right direction with regard to the corona measures. In addition, you'll check tickets when entering private property on the route and monitor the general crowds in consultation with duty managers.

- Check-in agents:
Welcoming visitors, scanning tickets and helping with the start-up of the system via WhatsApp, so that the Light Walk can begin.

- Infopoint employees:
Providing information to visitors, selling merchandise and handing out goodie bags to the right visitors.
- Flying keeps:
All-round flexible employee, available for various functions and for fulfilling ad hoc tasks. As a flying keep you're also responsible for the volunteer crew catering. Also: welcoming visitors, scanning tickets and getting them started at the start of the walking route.

- Location managers:
Responsible for the ins and outs of the check-in location, is in close contact with the duty manager and volunteer coordinator.
General information
Try out: 03 and 04.12.2020, where we'll test the experience with the help of volunteers. From 4.30 p.m. - 8 p.m. Note: you'll need to be available either the 3rd or 4th of December for the try out.

The check-in point: situated at Roeterseiland, next to CREA. The route is 2 km and goes through the Plantage-Weesperbuurt.

Tickets: a ticket for the Light Walk is €12,50, ex. €1,50 service costs

Booking: visitors need to book a date and time slot online in advance

Resident information: you can find it on our website!
Have a question?
Please contact vrijwilligers@amsterdamlightfestival.com and we will answer your question as soon as possible.