Mission
To use the universal language of light art in the public space to connect and enrich people.
Vision
We think that art must be made as accessible as possible, by bringing it to people. We believe that interventions in a familiar environment can lead to new energy and insights. By presenting light art in the public space we are able to impact a large audience: in the urban and in the digital world. This way we positively contribute to contemporary challenges of inhabitants and visitors of the city.
Core values
Creative
Creativity is the ability to think of new things and to create them. With light art being a relatively new art discipline, it provides plenty of opporunity to come to new designs and solutions.
Accessible
As a cultural festival in the public space we are right in the middle of society. We are open, we share and we connect. Everybody is welcome.
Initiative
We cherish our entrepreneurial origins, which lay the foundation for our sense of initiative today. This translates into the way we face challenges, the way we finance our activities and how we are on the forefront of creating long-term partnerships with different institues and organisations.
Responsible
We are aware of our presence in the public space and that this responsibility (sustainability, safety and inclusion among other things) comes with great social empathy.

Organizational philosophy
The core of the foundation's philosophy's is co-creation; we work together with many stakeholders in all facets of the festival and empower each other to bring about one, multivocal story.
Amsterdam Light Festival highly values creativiteit and technical quality. This is guaranteed by strategically connecting ourselves - on both social and operational matters - to the (artistic) expertise of specialists. This way, we continuously inspire ourselves and we stay flexible enough to move along with society and to guarantee and strengthen our artistic congruence.
A shared passion for light art connects the team that, under the guidance of the artistic management team - consisting of Frédérique ter Brugge (director), Jin Choi (Lead Curator) and Cindy Moorman (Lead Storyteller) - actively aims to have a meaningful impact on society year-round. The team consists of: Monsie van Diemen (partnerships), Ping Gao (finance), Kim Krieger (HR), Leonie Klomp (artist community), Akkemay Lammers (co-creation), Nicoline Meijer (marketing), Joanne de Roest (co-creation), Else-Marie Rombouts (education), and some enthusiastic freelancers and interns.
Patroness
Succeeding Eberhard van der Laan, Femke Halsema has been patroness of Amsterdam Light Festival since 2020. She symbolically opened both Edition #7 and Edition #8. Femke Halsema: "Amsterdam Light Festival is very dear to me, because the festival does not only illuminate the city with art, it brings together inhabitants and visitors".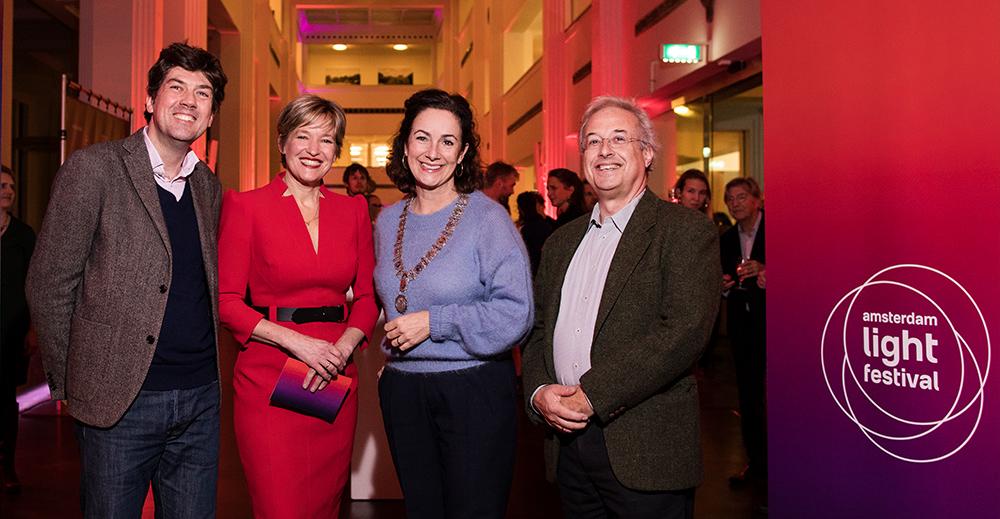 Capital C
Since April 2021 our office is located in C at the Weesperplein. This former diamond trading building now houses office, co-working spaced and meeting rooms, where creativity is the central focus. A place where we feel at home.