Residents' Cruise
In your mail you've received an invitation with a registration form for the residents' cruise. Please fill it out quickly, as the number of places for this cruise is limited!
Light Tests
On Thursday evening, November 17, a light test will be held for the light artwork at the Montelbaanstoren.
On Friday evening, November 18, a light test will be held for the light artwork at Plantage Muidergracht and Valckenierstraat.
On Saturday, November 19, a light test will be held for the light artwork at the Entrepotdok near the Geschutswerf.
You are welcome to attend and watch, and have a chat with us.
Construction period
We want to thank everyone for coming to our residents info evenings. During the last evening on 19 October 2022 there were some questions about the period of the construction of the artworks. You can find the planning* below: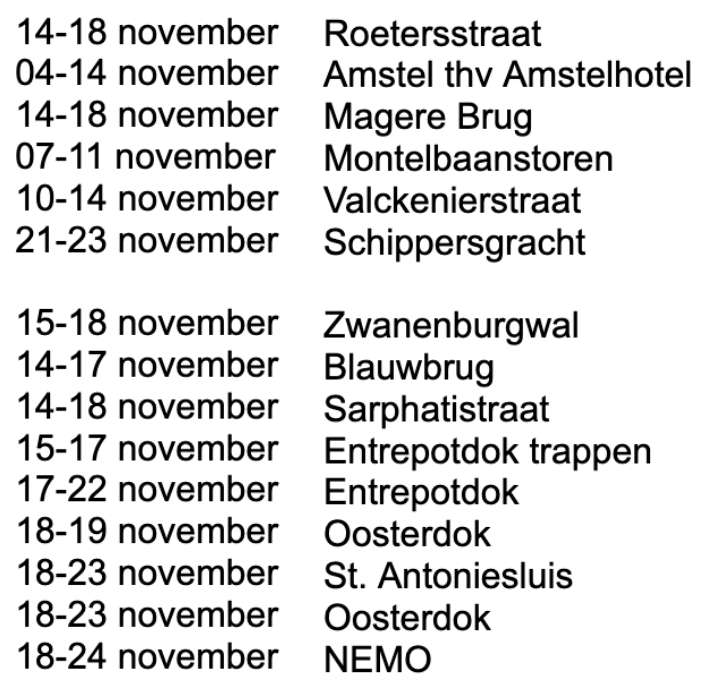 *All dates are subject to change.
Edition 11
The dates for Amsterdam Light Festival 2022-2023 are Thursday 1 December 2022 until Sunday 22 January 2023. The theme for Edition 11 is: 'Imagine Beyond'. We take visitors and residents of the city on a journey to the world of imagination...
During 53 dagen around twenty light artworks in the eastern part of the city centre will illuminate Amsterdam. The route is similar to that of Edition 10.
Residents news
Subscribe to our residents mailing list to stay up to date on the latest news for residents. For all festival news, we advice you to subscribe to the general festival mailing list. For questions, send an email to bewoners@amsterdamlightfestival.com. We solely communicate via the abovementioned channels.
RESIDENTS MAILING FESTIVAL NEWSLETTER