The urban legend goes the Skinny Bridge was named after 'the skinny sisters'. These two wealthy sisters are said to have lived on opposite sides of the river and had the wooden bridge built to make it easier to visit one another. In reality, the Skinny Bridge got its name because it was once so narrow that it was hard for two pedestrians to pass each other. To cope with increasing traffic on the Amstel, a wider bridge replaced the narrow original in 1871. De Koning took the basic shapes of the bridge, the four arches and the lines of the drawbridge, and placed these lines back in entirely different structures.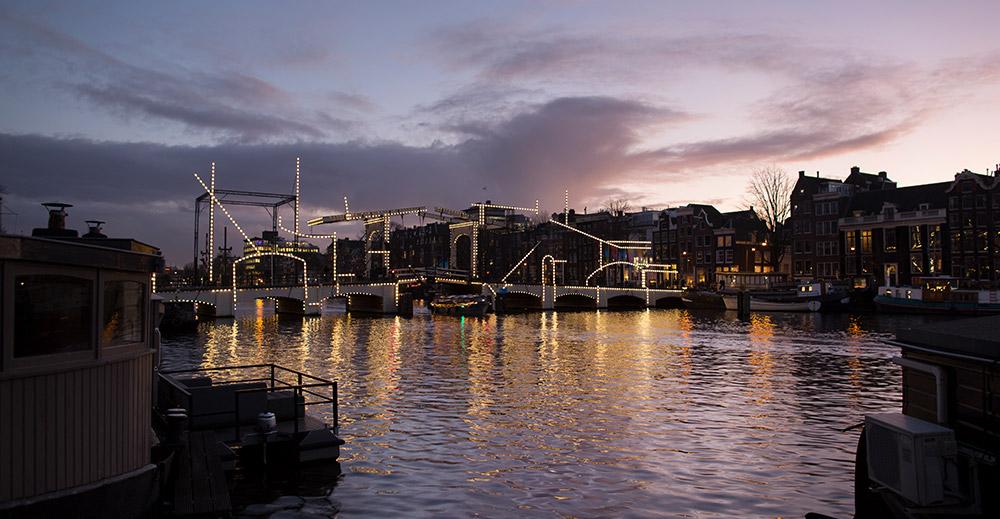 "With just three light bulbs, you can create the illusion of a line. By adding lights and switching off others, I distorted the entire drawing of the bridge. These changes result in an entirely different image of this Amsterdam monument."
Visitors who walk along the bridge in the evening might rub their eyes upon seeing the abstract lines towering over the bridge. Where the face of the Skinny Bridge has remained unadapted during the day, it has become unrecognizable at night. The new interplay of lines forms a commentary on the light drawing, as usually seen on the famous Amsterdam sight. The work fits in with the earlier work of de Koning, who disturbs environments with his site-specific works and gives them a new look.
Earlier, he reworked the interior of the Nieuwe Kerk in Amsterdam and transformed the interior of Musée des Beaux-arts Nantes into a maze. It is the first time that the artist has worked with light. De Koning loves to create a form of chaos with his art. "I am interested in breaking through an existing state of places or objects," the artist explains. "In this way, the work gives the public new opportunities to interpret the place. By making new connections, the viewer gets a fresh perspective."