Ben Zamora is an American artist, whose work is primarily based in light. Over the last few years, Zamora has developed a body of work that creates a dialogue between the viewer and their environment, while addressing universal themes of life, transformation, and transcendence.

Horizontal, vertical, and diagonal lines rhythmically lighting up in a fixed grid; that is characteristic of Zamora's artworks. Often, they consist of surfaces and lines that have no beginning and no end – comparable to the buildings and interiors of the art movement De Stijl. Seamlessly they dissolve in their surroundings. The artist draws inspiration from the elements of fire, water, earth, and air.
"With my work, I want to immerse visitors in an overall experience that will let them rise above their everyday worldly existence."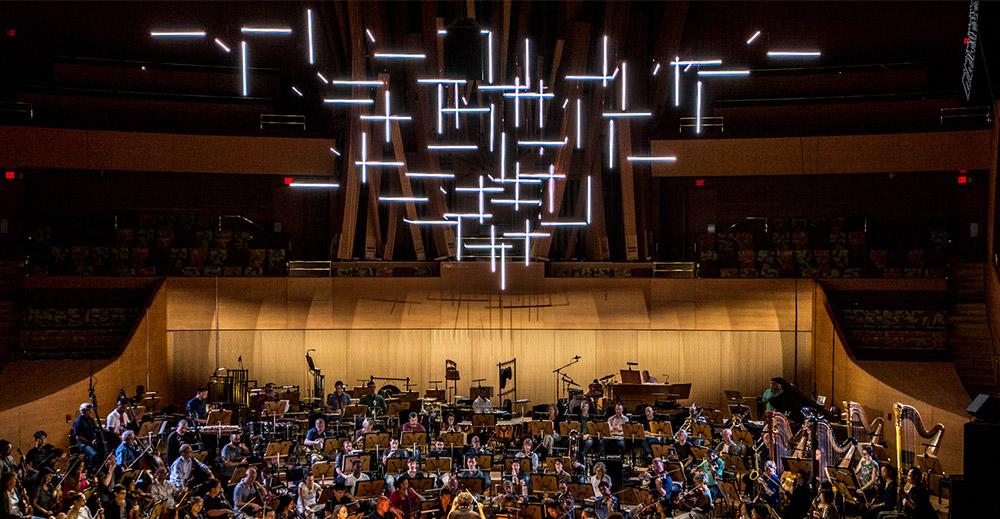 Photo: Harmonic, commissioned by Los Angeles Philharmonic (Photo by Mikki Kunttu)
Zamora's work ranges from large-scale installations to sculptures for parks, festivals, museums, and galleries. Further, he creates light-based sculptures and art installations for performance-based work, including projects with Kronos Quartet, the Berlin Philharmonic, the Barbican, and the Los Angeles Philharmonic.
Since completing his master's in Lighting Design, Seattle-based Ben Zamora (1977) makes lighting designs and objects for opera and theatre performances. In addition, he creates autonomous (light) installations and sculptures for museums and festivals.