Ben Zamora is an American artist who creates large, immersive light artworks. In recent years Zamora has developed a body of work that creates a dialogue between the viewer and his environment. As a visitor you become part of the patterns that Zamora creates with light.

Horizontal, vertical, and diagonal lines rhythmically lighting up in a fixed grid. That is characteristic of Zamora's artworks. Often, they consist of surfaces and lines that have no beginning and no end – comparable to the buildings and interiors of the art movement De Stijl. Seamlessly they dissolve in their surroundings. "I make work that connects people and places and creates experiences. I am most interested in creating an artistic relationship between architecture, nature, and community," Zamora tells us when we ask him about the nature of his work.
"Art doesn't exist in a vacuum, but rather in collaboration with its surroundings and the people who encounter it."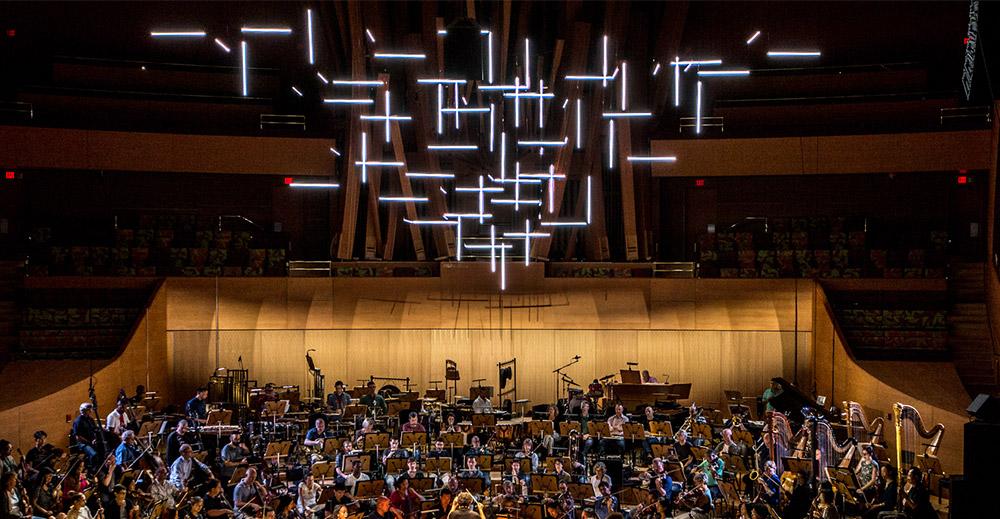 Photo: Harmonic, a comission by Los Angeles Philharmonic (photo by Mikki Kunttu)
His choice of working with light is no coincidence. Zamora: "Light is how we see everything. The quality of the light, color, and intensity all affect how something looks. Most of us are familiar with that, but we don't generally put a lot of thought into how expressive light can be. Light can affect how we feel in a very visceral and primal way, and I use that in my work."
ZZamora's work ranges from large-scale installations to sculptures – for parks, festivals, museums and galleries. He created works for the Park Avenue Armory in New York, The Coachella Valley Music and Arts Festival and Art Basel/Design Miami, among others.

Since completing his master's in Lighting Design, Seattle-based Ben Zamora (1977) creates autonomous (light) installations and sculptures for museums, theatre and festivals.