Layer by layer, Indonesian artist Laila Azra builds her paintings with acrylic paint, liquid latex, and synthetic resin. This way, her colorful works get their depth and volume. However, Azra doesn't limit herself to one medium; she also creates installations highlighting cultural and social themes. For Amsterdam Light Festival, she creates her first light artwork. 

"In my art, I depict personal experiences on a universal level," says Azra. She uses her hands and body to drip, splash, and scrape paint, with her canvas lying flat on the floor. Her paintings are daring, rhythmic, and have texture.
"Over the years, I have been looking for ways to circumvent the two-dimensional boundaries of the canvas. I wanted to push them towards the three-dimensional."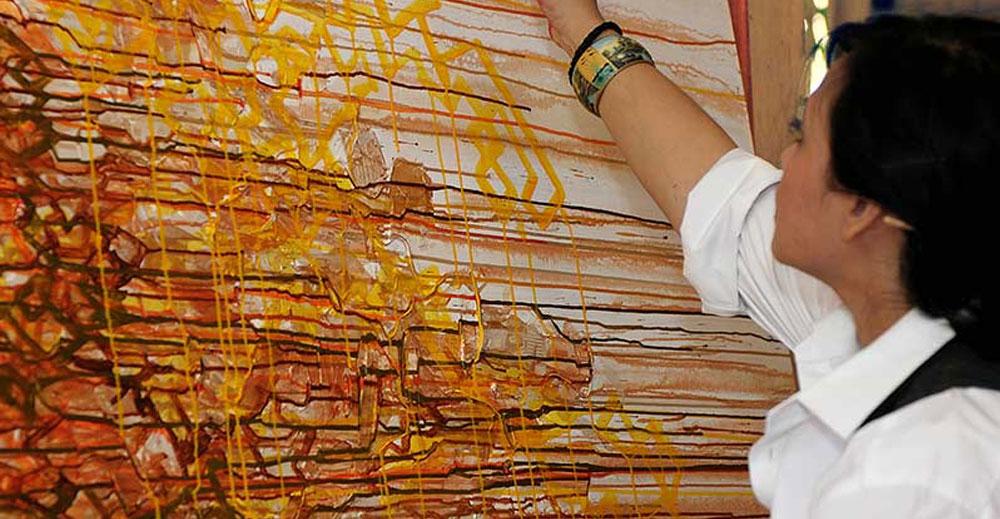 Installation art offers the artist even more possibilities to explore boundaries. For her work Material Garden (2012) she folded flower and plant origami from Indonesian banknotes, for example. In this way, she juxtaposes the beauty of nature with the influence of money. Azra: "Installations are eminently suitable for showing and questioning complex issues in society. By stimulating an open mind, we can bridge differences." 

The Indonesian artist Laila Azra (1970) developed a passion for abstract painting during her studies at the Nanyang School of Fine Art in Singapore. She creates both paintings and installations, enjoys experimenting, and applies her abstract, expressionist style to a wide range of media. Her work has been exhibited worldwide and was shown at the Vienna Biennale this year.