With their studio Full Blown, they previously experimented with 'inflated' metal, but the designers shifted their focus on light now. McDonnell: "Light is fundamental to our existence; it is the universal source of human potential."
"When I was daydreaming at school, it was seen as something negative, but now I see it as necessary and productive. I'm always looking for new ideas, watching a film, reading a book, or thinking about a conversation I've had before," reflects McDonnell on her life as an artist. 
She draws her inspiration from everyday life by looking at things from an alternative perspective. "I often try to break things down into simple questions like: What do I see? What does this mean? How was this made? Being open to your surroundings is a necessary part of my work, but you also need to know when to shut off to reflect on what you have seen."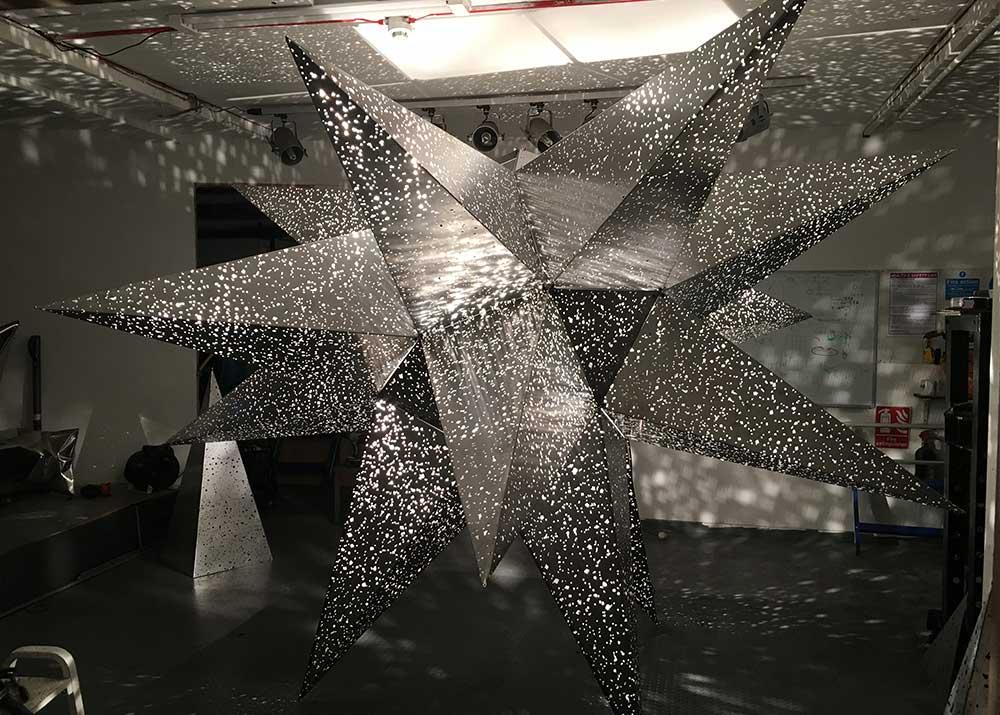 Photo: One of the 'stars' of the work of Studio Vertigo. The work is commissioned for Enchanted Parks.
A work of art that has made a great impression on her is Olafur Eliasson's Weather Project at the Tate Museum in 2003. "It was an overwhelming experience. It was one of the largest indoor contemporary artworks ever, at the time. It had that enchanting effect that occurs when you experience something big, so big that you don't want to leave. From that moment, installation art became a scene for the senses, one that can challenge and question the world in which we live, our daily reality." 
Light itself forms a great source of inspiration too, according to McDonnell.
"The universality of light makes it interesting as a medium. And the medium is still in development, which offers exciting new opportunities for artists."
Light art is unique because it is not limited to places where one expects art; in contrast, it brings art to the street, she argues. "It illuminates and transforms large spaces that are occupied by 'ordinary people', with a directness and a presence that you cannot ignore. The future is bright; the future is light!"

Under the name Studio Vertigo, light artists Lucy McDonnell and Stephen Newby design objects that transform the (daily) environment and turn your world upside down. In edition #4 of Amsterdam Light Festival, their artwork Infinity was shown under Newby's name.